The ad Scania P-270 4x2 NL Truck 250.tkm Original!!! box truck has been sold and is not included in the search!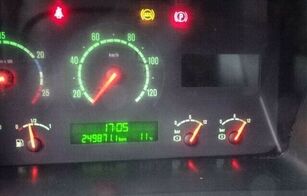 1/6
Model
P-270 4x2 NL Truck 250.tkm Original!!!
Year of manufacture
01/2006
First registration
2006-01-27
Location
Latvia
Placed on
more than 1 month
Truck body
Body dimensions
9.3 m × 2.5 m × 2.65 m
22 paletes - Oriģināls 249.792km - šaibenieks
Tiek piedāvāts Holandes Xxl kravas furgons ar liftu :
Marka: Scania
Modelis: P-270 XXL
Izl gads: 21-01-2006
Dzinējs: EUR-3 199Kw/270Zs.
Krāsa: Sarkana
Kārba : Manuālā
Analogais taho
Izmēri: 930x250x270
Nobraukums: 249.871km
Riepas - labas
Pie pareizas apkopes - mašīna praktiski nav nobraucama.
Brauksi un priecāsies.
Ieguldījumus neprasīs.
Vairāk informācijas pie pārdevēja.

Latvijā nav reģistrēta, Latvijā nav ekspluatēta.

Piedāvā firma MR Auto uzņēmums ar 20 gadu pieredzi kravas automašīnu tirdzniecībā.

Veicam regulāras transporta piegādes no Holandes Vācijas Beļģijas u. c.